USS Charles H. Roan - Ship's Crests
During her service to the US Navy, the Roan had two crests.

Information provided by Captain Jack Nuttall, USN (Ret.)


The first crest was round and consisted of an angry red-eyed octopus with a submarine in its grasp, and a bolt of lightning flying out.

The Commander Destroyers Atlantic Fleet (COMDESLANT) on July 1, 1957 ordered that all such symbols be removed and appropriate new ones be devised and adopted. Hence, our new shield/symbol was adopted in January 1958.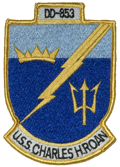 The new crest was in the form of a shield with the ship's hull number placed on top, and the ship's name across the bottom. The body of the shield represented the
Royal Blue Sea
separated from the
Light Blue Air
with a simple wavy line, and incorporated three symbols: The
Golden Crown of Success
. "SUCCESS" was our radio call in 1957-58. The Roan achieves success in all its endeavors in the air and sea.
Golden Trident
. King Neptune's weapon to be used offensively.
Golden Lightning Bolt
. Placed from upper left to lower right (when worn). This is
different
from normal usage and placement. The Roan and her crew
were
different.