The Jolly Cholly Has a Close Encounter of the Russian Kind
A Sea Story
By Raymond Ward, Capt., USS Charles H. Roan (DD-853) 1966-1967
Our 1967 Mediterranean deployment involved embarking a Special Electronics Security detachment complete with equipment in connection with our being the designated plane guard for the USS America (CVA-66). As many of you who were on board at that time will recall, chasing the USS America involved a number of quick visits to Naples, as they were having catapult problems. It also involved a number of passages through the Straits of Messena, usually at night and usually at high speed. We were also around for the "Liberty Incident," USS Liberty (AGTR-5), and the alert period after that where we broke the DASH hours flown per month record, both in the Eastern Mediterranean.

Other than the "Signalman superb lookout incident" where he saved us from putting any more target practice rounds too close to two Russian trawlers, my most vivid memory is of playing "At-sea-chicken." Russian trawlers and an occasional combatant worked at getting close to the carrier during flight operations.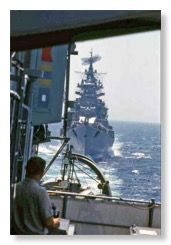 The 6th Fleet strategy was to keep a destroyer between any interested Russian ship and the carrier. The assignment was called "Blocking Ship." The rules of engagement for this assignment were not very clear.

As the Russian ship was trying to gain a closer position to the carrier, we were to keep him away. In addition to knowing what the carrier was going to do, we had the interior position. As the Russian ship speeded up or slowed down to pass ahead or astern of us we could clearly hear the change in pitch of his gas turbines. To maintain ourselves between the Russian ship and the carrier we could react immediately. After some time playing this game the carrier turned into the wind to conduct flight operations. We sped up and headed for a plane guard position modified to keep us four or five miles from the USS America. The Russian ship did the same and was rapidly closing, coming up our wake as shown in the picture.

When I took this picture I had just instructed the quartermaster of the watch to log,
"Came to ordered formation course and speed at time…"! I was delighted to hear the Russian ship's turbines slow down! He then sheared off as shown in the next picture.


Apparently the Russian ship gave up chasing the USS America as it had become too much of a hassle. He turned and roared off over the horizon. Happily we did not encounter him again.
Please click on images for larger version.